The Apex Club was founded in Geelong, Victoria on March 10 1931 during the 1930's depression.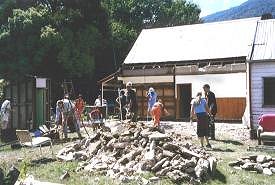 There are currently 400 Chartered Clubs representing 381 Men's/Mixed Gender clubs and 19 Women's Clubs, and 5.000 members with some 25,000 Senior Active and Life Members and approximately 310,000 past members.
The symbol chosen for the Apex badge was an equilateral triangle: Base Citizenship,; sides of Fellowship and Service; rising to the Apex, the height of ambition. The rays of the rising sun symbolise the rising generations of youth. The fourth ideal is represented by the inclusion of the word "International".
The ideals can be summarised by: "Apex seeks to make the ideal of service the basic command, a means of forming friendships, to promote understanding and citizenship and lend our neighbours a hand."